Welcome to The Reverie Retreat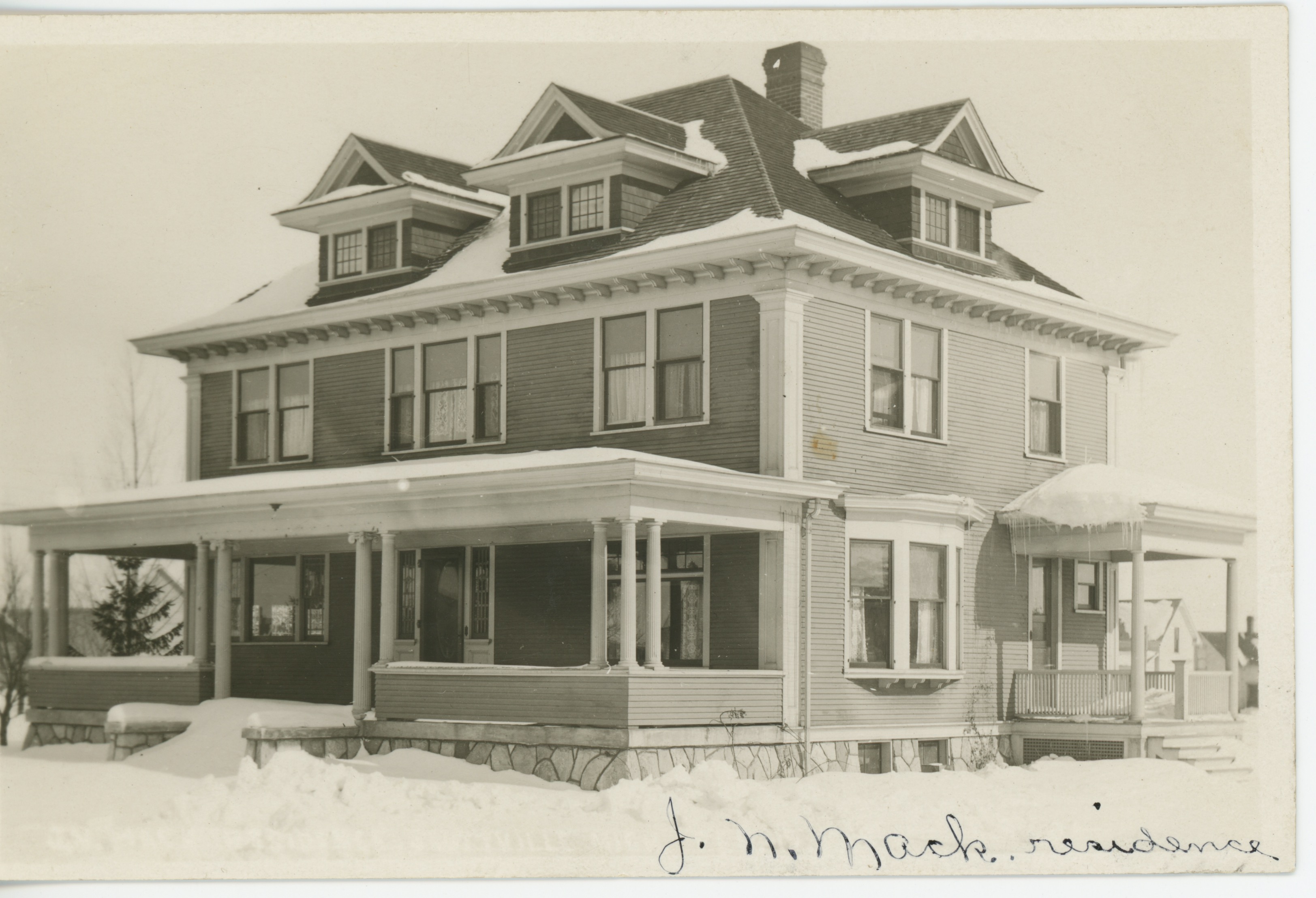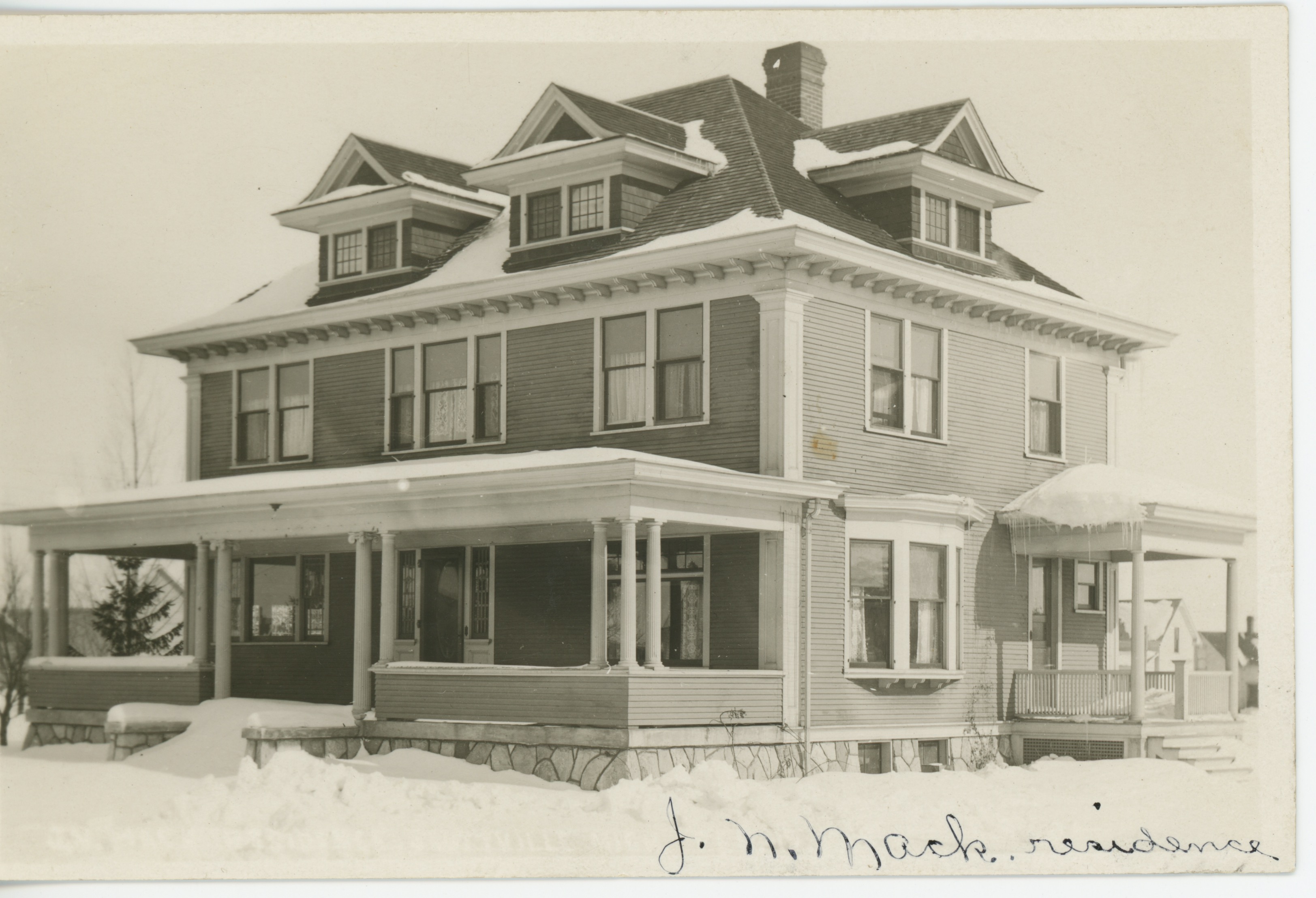 Becky and I are excited to announce the opening of The Reverie Retreat, located in the historic Mack House at 110 N. Columbia Ave. in Scottville. The house is an un-hosted lodging facility, located at the corner of Columbia Avenue and Broadway Street, that is being marketing towards organized hobbyist groups who want to get away for two or three nights to work on their crafts; think quilters, scrapbookers, sewing enthusiasts, etc. The five bedroom Edwardian-style home can also be rented for any number of days and evenings by other groups such as businesses, organizations, wedding parties, and vacationers.
We bought the house in October of last year and began with some modest redecorating, which included stripping all the wallpaper on the second floor and repainting each of its four bedrooms, two bathrooms, and hallways. The flooring on the second floor was also refinished. We repainted the third floor bedroom and added heat to it and we replaced the furnace and hot water heater with a new, high efficiency boiler.
We also repainted the first floor bathroom, and some of the walls, including the kitchen.
Repairs to the house were done by local contractors and the house has been furnished with items purchased from local businesses.
We are committed to helping revitalize Scottville and believe that niche market businesses, such as this, are key to its future success. We also believe that this business could inspire other entrepreneurs to invest in Scottville.
The house is one of the town's gems. Built in 1909, it is one of three homes that were designed by the architects Thomas Benjamin & Son of Grand Rapids and built for three prominent Scottville citizens. The other two homes are located at 209 E. State Street and 108 W. State Street.
I am a history buff and have always been fascinated by local history, so owning two historic homes in Scottville has been a highlight for me personally.
Please consider liking our Facebook page, our website, www.thereverieretreat.com, or contacting Becky to book the Reverie Retreat: info@thereverieretreat.com, 231-845-9198.
History:
– 1882: Records indicate that John Mack moves to Scottville and becomes a partner with Justice Stearns, operating a general store — Stearns & Mack — in Scottville, along with a farm in Section 24 of Logan Township (Carr Settlement), likely to provide food for Stearns Siding lumbering town located in western Lake County. Catherine Coburn, Mr. Mack's future wife, is a secretary for Mr. Stearns. Mr. Mack becomes one of the founders of State Savings Bank of Scottville (modern West Shore Bank) and builds a building for the bank located next to his downtown store.
1909: John and Catherine Mack move into the home built at 110 N. Columbia Avenue. Shortly after this time, Mr. Mack builds a building at 132 S. Main Street. The business will eventually be known as J.N. Mack & Son. In 1939 that business is purchased by Ray Schulte who later partners with Charles Thompson and renames the business Schulte & Thompson Menswear. The building is now the southern portion of the former South Main Tavern.
1941: Mr. Mack passes away at the age of 90.
1945: Mrs. Mack passed away at the age of 87, bequeathing the home to her son, George, and his wife Flossie.
1949: George and Flossie Mack sell home to Glenn and Jessie Wallace who lived next door at 108 N. Columbia Street (the house continues to be in the Wallace family, owned now by their granddaughter Jill Parsons and her husband, Jerry). Glenn Wallace served as Scottville mayor and owned the Four Star Theater in downtown Scottville and the Star Lite Drive In in Ludington.
1964: House is sold to Bruce and Marilyn Biegalle.
1965: Mr. Biegalle dies at the age of 45, about six months after purchasing the home.
1968: Duane and Beverly Ingraham purchase the house from Mrs. Biegalle. Mr. Ingraham began his teaching career at MCC in 1957 and retired in 1993. Mr. Ingraham taught full time from 1971 to 1995.
2011: John and Lisa Runk purchase the house.
2017: The Wicklow Group, Inc., owned by Becky and Rob Alway purchase the house.
---